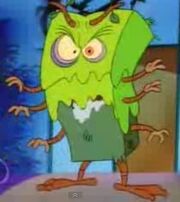 Hedgy is a mutant hedge that was created with the original IQ2U formula. It has a green grass body, green slime covering half of its body, six arms, two bird life beet and yellow eyes.
He was brought to life by Bushroot, who was looking to create other sentient plants like himself. Unfortunately, the mutation was unstable and eventually Hedgy dissolved alive into a puddle of inactive goo.
Character
Background
Personality
Appearance
Fiction
Cartoon
Community content is available under
CC-BY-SA
unless otherwise noted.