Gandra Dee is the receptionist at a bean factory owned by Scrooge McDuck. She is a citizen of Duckburg, owns a gorgeous pink car, and is romantically involved with Fenton Crackshell, a former colleague of hers. Both Fenton and his secret superhero identity Gizmoduck periodically drag her into trouble, but she takes it in stride and on occasion is crucial to saving the day.
She was voiced by Miriam Flynn.
Character
Background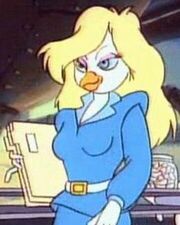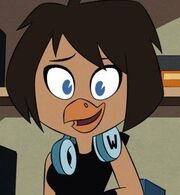 Gandra Dee is a prime example of "beauty and brains". Her looks once were the main aspect in a wildly effective advertising campaign for a product that didn't even exist nor was defined. Gandra has no known ambitions past her current job at Scrooge McDuck's bean factory, but she continues her education by attending nightschool, where she currently follows the electromagnetic espionage robotics class. This knowledge proved worth the effort when thanks to Fenton Crackshell she had to pretend to be the international spy Goldfeather and get a giant gold-stealing mantis robot to work.
Fenton Crackshell is Gandra's boyfriend. For a long time, the two of them were employed at the same bean factory; she as receptionist, he as literal bean counter. Although Gandra fancied him, she chose to wait until he'd make the first move, which somewhat inconveniently didn't happen until he got a job elsewhere. Since that day, Gandra and Fenton have a solid romance going that has survived Gandra's communication issues, Fenton's boundary misreadings, and a handful of white lies from Fenton that usually relate to his secret double-life as Gizmoduck. "DuckTales"
Personality
If there's a thing that Gandra lacks, then that thing is assertiveness. Rather than going for what she wants, she sits back until others take action. At most she might drop vague hints that something is bothering her, but calling her displeasures by name to the person it would be relevant to is not on her route. At the same time, she is not very patient when she herself is subjected to that particular treatment. When there's no hiccups in communication, Gandra is a pleasant person to be around, who takes her responsibilities and capabilities seriously and makes friends easily. "DuckTales"
Appearance
Gandra is an attractive, tall, slender, and white-feathered bird with long blonde hair and blue eyes. Her usual attire is a blue business suit with a blue pantyhose and white shoes. In the DuckTales reboot, she still has blue eyes, but she is a short-haired brunette with light brown skin, a sleeveless shirt and pants instead of a skirt.
Fiction
Boom! Studios comics
Upon Donald's instruction for Duckburg to fight back against the ink, Gandra does so. "Dangerous Currency, Part 4"
Notes
Dee is named after the 20th Century actress Sandra Dee.
Because Gandra Dee only appeared in Darkwing Duck as part of the cast of "Dangerous Currency", which is pseudo-canon at best, she's technically not part of Darkwing Duck canon.