Doofus Drake is a citizen of Duckburg and one of the people associated with the household of Scrooge McDuck. He is a friend of Huey, Dewey and Louie and Webby as well as Launchpad McQuack's #1 fan and occasional sidekick. As can be gathered from his size, one of Doofus's greatest joys in life is eating. Another is his membership of the Junior Woodchucks, which uniform is his primary outfit. Although he tends to live up to his name, Doofus is a good-natured and brave boy who does his best to honor the moral expectations of the organization. His last appearance was a silent cameo in Super DuckTales Part One.
He was voiced by Brian Cummings.

Character
Background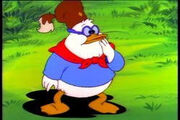 In a future that will no longer come to pass but which aspects could still happen, Doofus marries Webby Vanderquack. Even at this stage, Launchpad continues to refer to him as his little buddy.
Personality
As his name suggests, Doofus is rather dense, but has at least some common sense. In the reboot, however, Doofus is a rich, spoiled brat who treats his parents like servants ever since his late grandmother left him a fortune.
Appearance
Being a big eater, Doofus has a large waistline, which is made louder by his advanced height compared to his friends. He has a pronounced chin and cheeks, and wears glasses, a blue shirt, and a coonskin cap and red shawl iconic to the Junior Woodchucks.
Fiction
Boom! Studios comics
"Campaign Carnage, Part 3" "Campaign Carnage, Part 4" During the ink's assault on Duckburg, Doofus is one of the people who responds to Donald Duck's call to fight back. "Dangerous Currency, Part 4"
Joe Books comics

This Joe Books section is a
stub
.