Welcome to the
D
arkwing
Duck Wiki
| | |
| --- | --- |
| | The Darkwing Duck Wiki is a collaborative attempt to document everything related to Darkwing Duck, an early '90s American franchise by The Walt Disney Company that spun off from DuckTales. It primarily exists as a cartoon, but there are comics, including an ongoing series, and other media too. The wiki format allows anyone to create or edit any article, so we can all work together to create a comprehensive database by and for fans of Darkwing Duck. |
| | |
| --- | --- |
| | Doctor Desiree Bell is a scientist who has chosen to work on a better world and to this end joined SHUSH. Her intellectual input has been assigned to the organization's space projects. |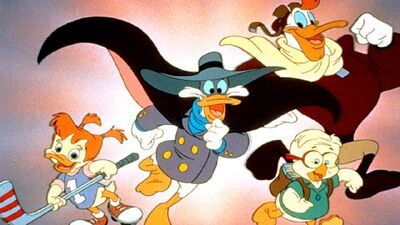 Darkwing Duck shines due to its rich cast of memorable and diverse characters. The main five are Darkwing Duck, also known as Drake Mallard, a superhero striving both to make the world a better place and keep the spotlight on him, his adopted daughter Gosalyn Mallard, who will always only do what she wants and what she believes to be the right thing, Launchpad McQuack, Darkwing's accident-prone but good-natured sidekick and third member of the Mallard household, Honker Muddlefoot, a youth genius living next door and best friend of Gosalyn, and Morgana Macawber, a powerful witch turned hero and romantic partner of Darkwing.
In addition to this unconventional family, St. Canard is home to many heroes, and even more villains. Some are demons, several mutants, a bunch aliens, some monsters, a few cyborgs, others robots, and anyone who somehow escapes these categories still has much to offer to the story. Keep your eyes open for the occasional visitor from Duckburg too!
Darkwing Duck
began existence as an
animated television series
produced by The Walt Disney Company that ran from 1991-1995 and 1996-1997 on both the syndicated programming block The Disney Afternoon and Saturday mornings on ABC. It featured an eponymous superhero anthropomorphic duck with the alter ego of Drake Mallard. It was the first spinoff of
DuckTales
and the first Disney series to not feature any characters with comic book history prior. Following the '90s, the franchise went into a slumber to be revived in the '10s with a comic book series by
Boom! Studios
. This came to an end due to license issues, but the series was picked up by
Joe Books
in 2015 and properly launched in 2016.
Without Gosalyn, Darkwing Duck would've not made it past the pitch presentation.
Darkwing Duck is the result of two failures to understand intellectual property, the first regarding The Rocky and Bullwinkle Show and the second regarding the 00- classification of James Bond.
Morgana Macawber was conceived as a magic-wielding villain and was adjusted into a love interest for Darkwing as the script took shape.
September 30+, 2017: As per the announcement at San Diego Comic Con 2017, Darkwing has appeared in the 2017 reboot of DuckTales.
Want more Darkwing Duck? Then you could give these websites a try.