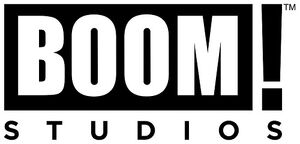 Boom! Studios is an American comic book publishing company founded in 2005 by Ross Richie.[1] Having a few years of negative experiences with Hollywood's treatment of comic books behind him, he had clear goals for author ownership, marketing, and deal making for the new company. Their first publication was Zombie Tales #1, a horror zombie anthology released on June 29, 2005. This was a co-publication with Atomeka Press. Hero Squared #1, in stores on July 27, 2005, was Boom! Studios's first solo publication. With the money earned from these first few titles the first license could be afforded in 2006, which was Warhammer 40,000: Damnation Crusade from Games Workshop.[2]
In 2009, Boom! Studios launched a BOOM Kids!, an imprint meant for children. For this imprint, the company had signed a deal with Disney and Pixar a year prior to produce comic books based on their properties. The first of these were The Muppet Show and The Incredibles: Family Matters.[3] Following these negotiations came ones for six ongoing series based on core Disney characters. With this background, Boom! Studios was able to additionally secure the rights to comic books based on the The Disney Afternoon lineup for publication in 2010. This line began with Darkwing Duck and its success prompted expansion with DuckTales and Chip 'n Dale Rescue Rangers.
All of the Disney licenses were retracted by 2011. The reasons for this is so far not revealed, but creative differences and management difficulties are mentioned in passing. The comics produced by Boom! Studios were moved for republication and continuation to Marvel Comics, which had been acquired by Disney in 2009 when it purchased Marvel Entertainment, and Joe Books. Joe Books currently holds the license for comic books based on the The Disney Afternoon lineup and has picked up Boom! Studios's storyline, minus "Dangerous Currency", in 2016.
Darkwing Duck
DuckTales
Following the success of Darkwing Duck, Boom! Studios agreed to give the comic treatment to DuckTales too.
Creator controversy
Throughout the run of the Darkwing Duck comic series, there was controversy as to who was responsible for the series. Editor Aaron Sparrow is largely credited with the idea to relaunch the property and has claimed to have plotted the first arc and come up with many of the concepts for following story arcs. This has been publicly disputed by Boom and credited series writer Ian Brill. However, artist James Silvani has publicly credited Aaron Sparrow not only with the idea of bringing the series back, but assisting him in ghost-writing much of the series and changing a lot of the concepts Ian Brill brought to the series following Sparrow's departure from BOOM! Studios. This seems to be further corraborated by the fact that Sparrow and Silvani have both stated they did not write any of the final arc of the series, "Dangerous Currency," which was largely panned by fans for having many glaring character inconsistencies, particularly in the case of the character Gizmoduck.
Darkwing Duck creator Tad Stones has also publicly credited Aaron Sparrow as bringing the character back in a 2010 BOOM Kids! "Get A Sketch" panel at Comic-Con International. It may also be noted that Sparrow continues to make public appearances with Silvani and Stones, and Ian Brill does not.
References
External links
Community content is available under
CC-BY-SA
unless otherwise noted.